Greetings
Aki Hashimoto, Representative Director, President
and Chief Executive Officer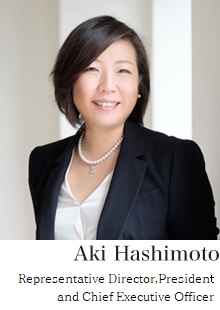 We wish to thank you very much for visiting Stella Chemifa's website.

In 2016, Stella Chemifa celebrated its 100-year anniversary after its foundation in 1916. Since then, as a general manufacturer of inorganic fluorine compounds, we have committed our entire resources to respond to the desires of our customers. We place our number one priority on producing a stable supply of products that satisfy our customers.

Currently, our main business is the High-purity Chemical Business, centered on fluorine compounds. These support the manufacture of electronic devices that are indispensable in our modern lives, such as in automobiles, mobile phones and televisions. Throughout our 100-year history, we have spent a considerable amount time with fluorine chemistry. As a result of our efforts to develop a variety of applications, we have firmly established production and distribution systems, revolving around high quality products, including hydrofluoric acid used in the manufacture of semiconductors and liquid crystal displays and additives for lithium-ion secondary batteries. We have continued to bolster our systems to respond to the needs of customers both in Japan and overseas.

In addition, our continuing challenge to further develop our unique technology has not stopped with the field of fluorine chemistry. Recently, we have ventured into the area of medical business as well. The development of mass production technology for enriched boron isotopes (boron-10), secured in 2000, gave rise to expectations for the deployment of applications in nuclear energy. However, this lead us on to the development of chemical agents used in cancer treatment called BNCT ("Boron Neutron Capture Therapy"). In addition to this, we have focused our efforts on expanding the range of our Medical Business by becoming involved with GMP certification in the field of oral health care.

We are actively pursuing a number of management issues by consolidating our efforts as a group. These include improving our overall structure by changing our focus from sales to profitability, reinforcing internal systems toward thoroughly promoting risk management, becoming involved with BCP, and nurturing the development of the next generation of management.

With our spirit of challenge that we have embodied since our foundation, we will apply chemistry, and go beyond chemistry as we move from the first 100 years that brought us here to the next 100 years that will take us into the future. In order to accomplish our social mission as a company that supports people's healthy lives and happiness, we continue to grow with new thoughts and ideas and open up new roads into the future.

We hope that you have gained a better understanding of us through our website. We look forward to everyone's continuing support.